Description
Features
Brača IV is the original world's first 'tear-drop' design and our most widely used paddle. The paddle is designed to facilitate application of power in the beginning (catch) and in the middle of the stroke, enabling capabilities to obtain the "ultimate" forward stroke.
Brača IV 60 is designed for paddlers who prefer a softer blade and shaft.


Brača IV is available in the Extra Light construction for the athletes who prefer light and stiff characteristics. You can also choose the stiffness of the shaft. We recommend a stiffer shaft for bigger blades but any combination is possible. See the Specification >> shaft stiffness measurement procedure and parameter table below.
Brača IV is also available with Marathon blade construction. This is a result of advanced technology, a proprietary blend of composite materials and was designed with the marathon and adventure paddlers in mind. The edge of the blade is reinforced with a kevlar layer that makes it highly impact resistant in extreme down river conditions.
All Brača IV paddles are available with a fixed shaft or a Metal Adjustable Shaft System. This allows elegant adjustment of overall paddle length (within 5cm range) and blade angle from 0° to 80° right or left. The system is also available in the more economical Plastic I. version for the 60% carbon shafts. Both versions allow you to disassemble the paddle into two parts for easy transportation.
Specification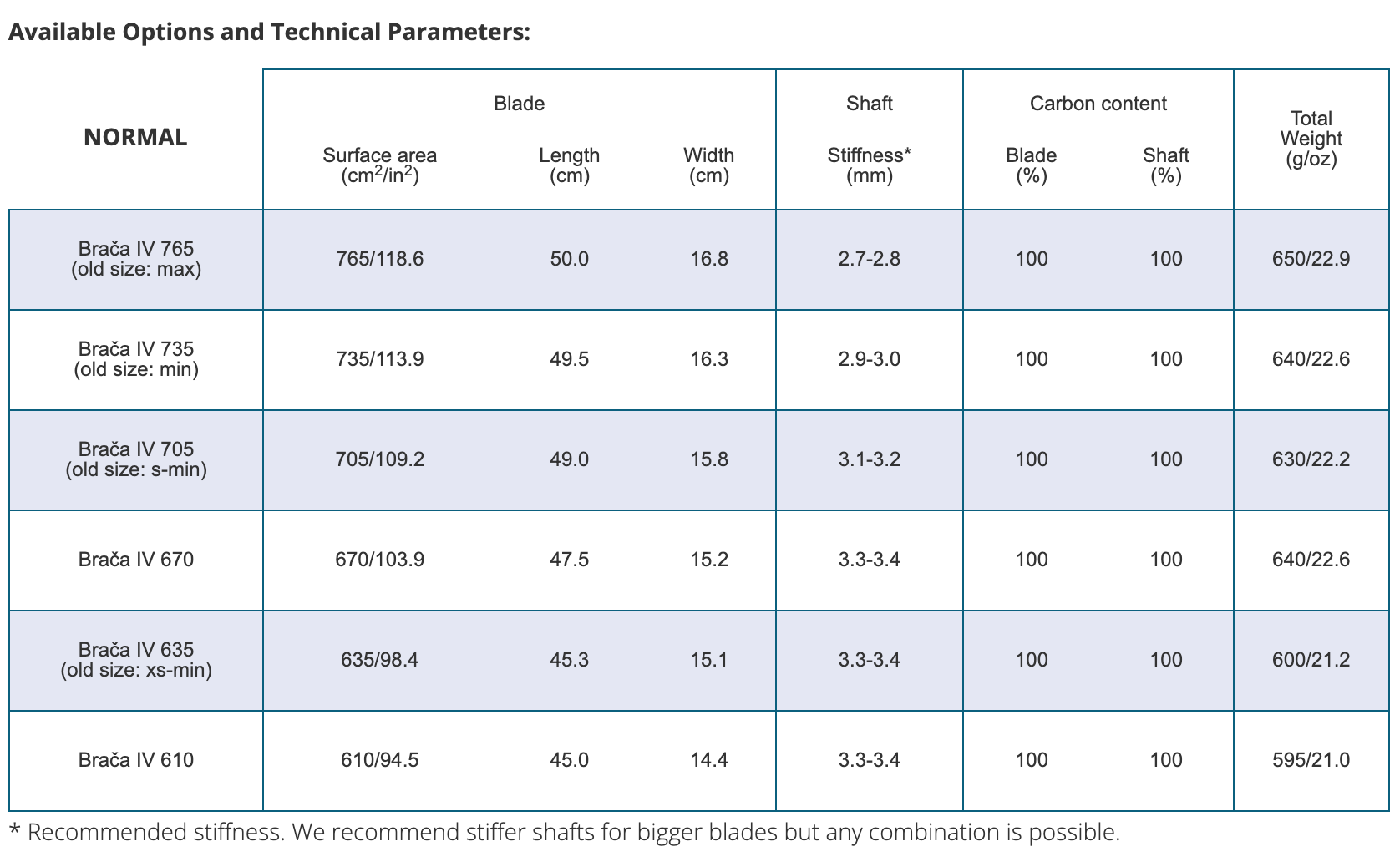 Download the latest full Brača Sport Paddles Catalogue 2017
Assembly
We can custom tailor the length and pitch, and will assemble the paddles according to customer requests. The following videos demonstrate the assebly process to aid people who would like to assemble their paddles themselves.
Maintenance
IMPORTANT!   Always clean your adjustable shaft regularly!
When used in saltwater conditions, clean with freshwater after each use, otherwise disassemble and clean every three days. Store your adjustable paddle disassembled if not used for more than two weeks!
The paddles should be dried with a soft cloth after each use to prevent limescale and dirt buildup. They should be stored protected from direct sunlight and intense heat to prevent premature aging of the surface finish.
If used and treated correctly, Braca-Sport paddles will provide excellet performance for many years. The precise assembly is essential to prevent water ingress and accidental rotation while paddling.
Download the latest full Brača Sport Paddles Catalogue 2017