Product SKU
VP002
Brand
Vapor Fitness
Availability
In Stock

Colour

Quantity
Description
Highlight
CONVENIENT WAY TO TRAIN AND WATCH YOUR VIDEOS
SUPERIOR DESIGN: RIBS IN THE PHONE HOLDER PREVENT THE POWER AND VOLUME BUTTONS FROM BEING PRESSED
FITS PM5 MONITORS FROM CONCEPT 2 ROWER, SKI ERG AND BIKE ERG.
MADE OF FLEXIBLE SILICONE: FITS ALL SMARTPHONES
COMES IN 5 COLORS
Vapor Fitness Silicone Phone Holder For Concept2 RowERG SkiERG BikeERG
Part Number: VP002
ABOUT: This is the product that's been missing from your workout! Make your workouts more enjoyable by watching videos on your smartphone while you row, bike or ski! This product was made to fit the Concept 2 Rowing Machine, SkiErg and BikeErg monitors.
FITS ALL SMARTPHONES: Fits even the largest smartphones with protective cases. The cradle can be stretched 4" to fit any device. It will also fit smaller smartphones.
EASY TO USE: Flexible hook-like shape allows for tight hold of ALL smartphones. The product measures 5" x 3.75" x 2.75" and has a built in bridge to prevent the buttons from being pressed down. There's no need to remove your protective case before using.
SLEEK DESIGN: The silicone smartphone holder slides on top of the Concept2 PM5 monitor and fits snugly. It is reinforced at the back with a third rib for stability. This product comes in black, pink, neon yellow, khaki green and red and is made of high quality silicone.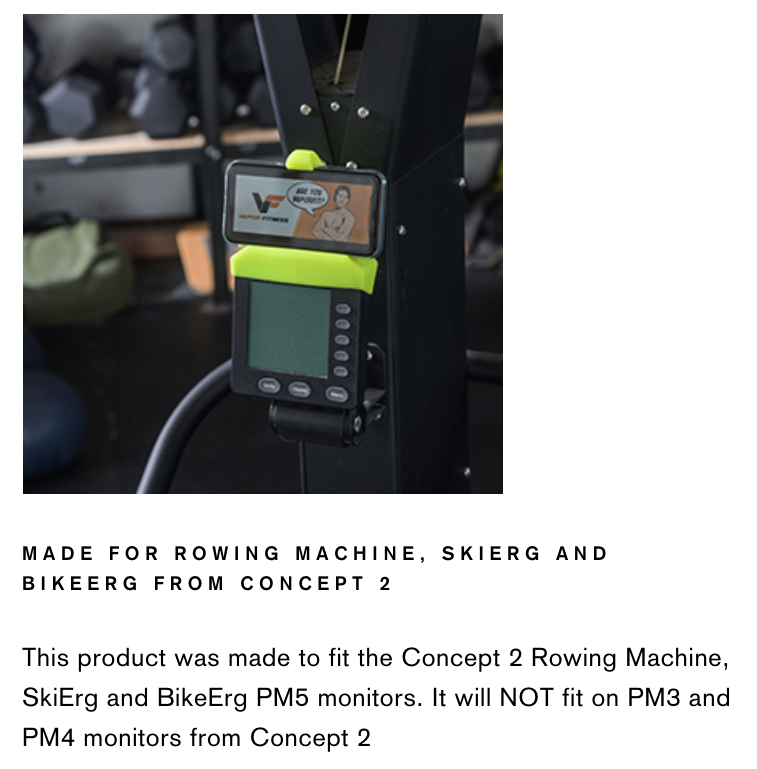 COMPATIBILITY: Our phone mount is made to perfectly fit the PM5 monitor from Concept 2. It will NOT fit on PM3 and PM4 monitors from Concept 2. It slides in easily, making it the perfect product to bring to the gym or use at home.
The phone holder is made of silicone. It will fit even the largest phone with an Otterbox case. The cradle can be stretched to almost 4" wide. It also fits the smaller smartphones. Our phone holder has been tested with the Apple iPhone, Samsung Galaxy and Note, Google Pixel, Motorola, LG and more.
IMPROVED DESIGN
The ribs in the phone holder are designed to support the phone and prevent the power and volume buttons from being pressed.
COMPATIBILITY
The Vapor Fitness smart phone cradle has been designed specifically for the following Concept2 products:
Concept2 RowErg (Model D, Model E, Dynamic)
Concept2 BikeErg
Concept2 SkiErg
It will fit on the PM5 monitor. It will NOT fit on PM3 and PM4 monitors from Concept2
* Vapor Fitness is not affiliated with Concept2
What's in the box
1 piece Vapor Fitness Silicone Phone Holder